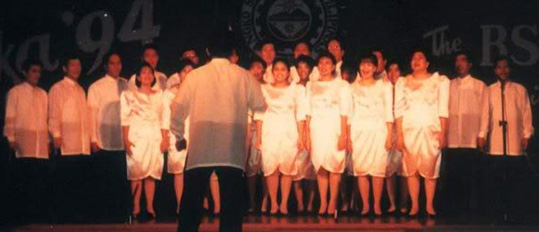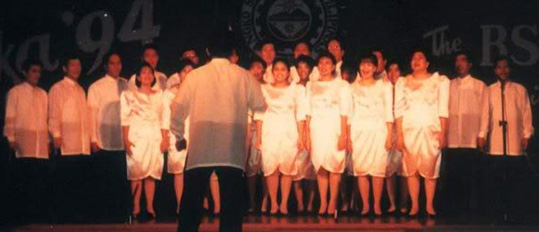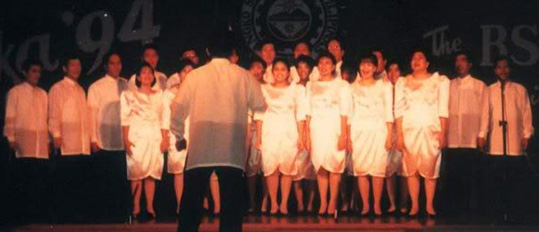 BSP Chorale 
Bangko Sentral ng Pilipinas
We have known Mr. Joffer Acosta since the early 1990's when he became the Musical Director of the BSP chorale. The Bank's Cultural & Sports Committee has always looked at wholistic development of employees as a necessary supplement for sustaining work productivity. and, like what it has always maintained in all the cultural groups established for the purpose, it needed a dedicated coach who could sustain and enhance mentoring and discovering singing talents and bringing out the best in them. This expectation was not in vain as Mr. Acosta did just that, and even more.
It was from Jojo, as we fondly call him, that we learned how to listen and make sounds.. how to distinguish one pitch from another, and how to truly take care of and sustain this God-given talent. It was not all singing, though that Jojo taught us, but the greater part was his relentless effort to train us in self-discipline. He was highly respected for his professionalism, promptness, focus, and "personal touch." He was exemplary.
Indeed, Jojo's coaching skill did not end with the BSP Chorale but it was extended to children of BSP employees in their summer workshop. In summer of 2000, the CB Ladies Group, an association formed by the spouses of the Bank's past & present governors, offered an annual Summer Workshop for children of BSP Employees. And singing was one of the workshops they desired for the children. There was a big problem though, as to who and from where would be the music professor, with "patience" as the number 1 virtue, who would be willing to handle more than 70 participants expected to showcase their singing talent on graduation day. The unanimous choice was Jojo Acosta. And, like his impact on the BSP Chorale, "Kuya Jojo" once more, became a nostalgic niche in these young hearts. That first song rendition by the children surpassed parents' expectations and contributed much to the popularity of the CB Ladies' summer project, which, to this day, parent-employees and their children have always looked forward to every year.
To you, Jo, as we intimately call him, thank you so much for being a part of the BSP family. May God continue to bless you in your passion to serve Him through the world of music.