SingerStudio Discovery Program
What's the DISCOVERY Program?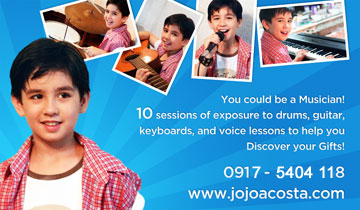 It's for individuals of all ages who enjoy music but are uncertain of which instrument to focus on. Jojo has experienced teaching voice students who cast longing looks on the drums or the guitar. But they're wary of investing on a set of lessons because they may not like it after the first few ones. So the discovery program is a great way of testing the waters, so to speak. This way, the student will have a clearer idea of what s/he wants to study further.
Poster Credits:
Model: Julijo Pisk
Photos: Ledh Dela Cruz
Layout: Ryan and Kristine Tani