Music In His Life: A Daily Tribune Article About Jojo Acosta
Excerpts from the "Music In His Life" Article
by Joan C. Castro
2000/12/28
The sound of a piano being warmed up suddenly ceases, and the lights dim. The conductor appears, welcomed by a brief applause. He makes his way to the podium, acknowledging the audience with a bow. Then, in almost complete silence, he raises his arms and with a superior gesture leads the choir into the opening notes of a musical piece.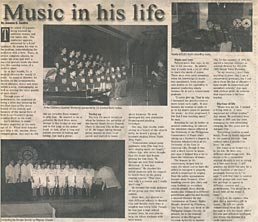 He is Jojo Acosta, 35, a musical director for nearly 15 years. As musical director, he decides on the arrangements, chord changes, starts and stops within a song, choreography, as well as scoring the voice quality of each singer.
Through years of performance, his memories of being a little boy listening for the first time to the sheer beauty of the melody and harmony of the metal frets of their house boarder's guitar remains fresh in his mind.
Jojo's interest in music became apparent at the early age of 10. When their boarder game him an old, wooden, three-stringed guitar, Jojo says he felt like an invisible force seemed to grip him. He wanted to be a guitarist. He tied three more strings to the bridge at one end and to the pegs in the guitar head. At last, after a long and patient process of testing and tuning, Jojo had a guitar.
Tuning up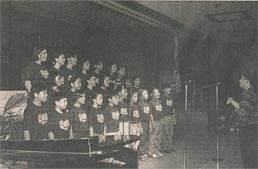 His love for music mounted when he became the guitarist of the Sacred Heart Parish Church Choir in Quezon City at the age of 13. He began taking formal guitar lessons in their local parish and started to learn about harmony. He even developed his own distinctive thumping-and-plucking technique.
One day, Jojo recalls, while sitting on a bench of the church lobby, he heard a group of students singing Silent Night, Holy Night.
"Nakakatawa talaga yung pagkanta nila (The way they were singing made me laugh)," relates Jojo, who never thought that the music had begun playing for him then. "It became my ever first musical directing. It was just accidental." He shocked his fellow students with his request to coach them in the group singing contest. "That time, I was only a guitarist and I really don't sing."
He became the main guitarist of the group and they won the contest.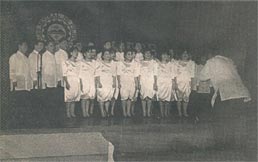 After that, Jojo started to visit different schools in Quezon City and Manila every time a songfest was being held. Though he was just a high school student then, he was able to help his fellow students with their music.
Highs and Lows
Perseverance, Jojo says, is the key to his success. He admits that it really took a lot of effort to learn the words of music. There were even some occasions when his knowledge in music was questioned.
"I never give up. That is why I increased my practice time to more hours each night. It also became my routine at night to go to my aunt's place to practice the piano. As time progressed, I felt that I was learning much," he says.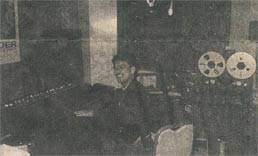 His public appearances become more frequent. After handling several glee clubs and song festivals in secondary schools around Metro Manila, Acosta also ventured in different government agencies and became a musical director for the Commission on Human Rights, Bangko Sentral ng Pilipinas, City Trust Bank and Bank of the Philippine Islands Chorale. At present, he is the musical director of the Philippine Coconut Authority in Quezon City. In the summer of 1999, he signed a two-year contract as musical director for the ABS-CBN Talent Voice Workshop.
"In my resume.. I can show them the list of chorales I have taught in elementary and secondary schools," Jojo says with obvious pride. He believes that experience is his best teacher.
Rhythm of Life
"Music was my life. I earned a living with it. It even supported my college studies," Jojo muses.
"Everything revolved around music. Even my family adjusted to the musical lifestyle. And without notes I wouldn't be here," he adds.
It is God, he explains, who gave him a marvelous gift in music. He will not totally remove music from his life because it is in his heart, where his love and affection developed, and where the dreams of a child came true.